Owner of plant variety rights: Bayerisches Obstzentrum Hallbergmoos, Dr. Michael Neumüller
Origin: mutation of the well-known sweet cherry cultivar 'Regina', discovered by the fruit grower Gerhard Och at Pfarrweisach (Franconia)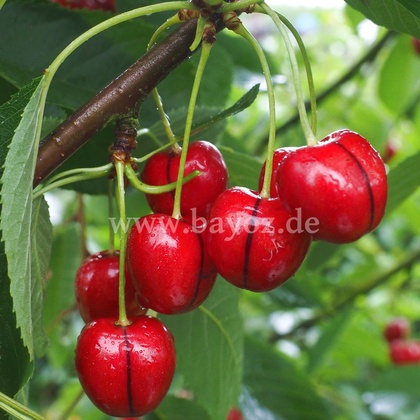 VARIETY

DESCRIPTION

'Natalie®'

Tree: exactly the same characteristics as 'Regina'
Flower and pollination: flowering time very late in the season. S-alleles S1S3.
For pollination, all varieties which are suitable for 'Regina' can be used. Please, refer to your local recommendations for pollinators. In Germany, the following varieties are often used as varieties for cross-pollination: 'Karina', 'Sylvia', 'Irena', 'Schneiders', 'Skeena', 'Rubin', 'Sam', sometimes 'Kordia'. The cultivar 'Regina' itself cannot be used for pollination as 'Natalie®' is its mutant.
Fruit: Ripening time late to very late.
Red skinned, color of skin is medium red. A small stripe starting at the stalk and following exactly the ventral suture is colored darkly red or nearly black. This makes the fruit unique.
The fruit flesh is yellow, only the flesh tissue in between the black stripe and the stone is colored red.
In all other traits such as size and taste, the fruits are identical with those of 'Regina'.