Facts:
'Goldach®' is the perfect apple for the farm shop or the market: very attractive and suited for people suffering from the Mal d1 apple allergy, it also satisfies with its fruit quality.
The tree is easy to grow: The short branches are full of flower buds. Machine pruning can easily be applied. The vegetative growth is medium during the first few years, later it is weak. The tree stops the vegetative growth early in the season.
The yield is high and very regular. When thinned adequately, the fruit is big. The percentage of class 1 fruit is very high. Harvest can be completed in two pickings.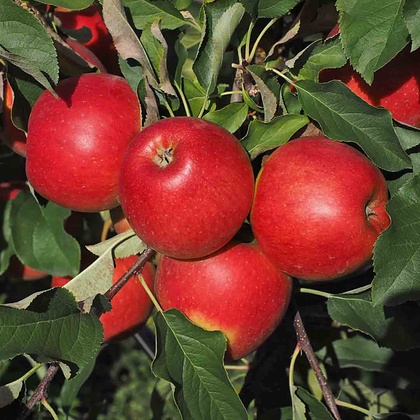 Apple allergy – what is that?
About 8-10 % of the Middle European population are suffering from an apple allergy. This allergy is triggered by certain proteins generally present in fruits of all apple varieties. There are different types of apple allergies. There are two main groups:
'Mal d3' apple allergic persons can eat peeled apples, but not the apple skin. Also processed products like apple juice trigger the allergy. Symptoms are mostly a skin rash or problems in the digestive tract as far as an anaphylactic shock. This type of apple allergy is found mostly in Southern Europe.
The allergic reaction of 'Mal d1' apple allergic persons is mostly somewhat milder. The symptoms are itching on the lips and in the mouth as well as inflammation in the mouth and throat (oral allergy syndrome). Most of the apple allergic persons suffer as well from birch pollen allergy. When heated, the allergy triggering effect is largely deactivated due to the denaturation of the mal d1 proteins. Apple cake and juice is therefore tolerated by the patients. Mal d1 apple allergy is the most important apple allergy in Middle European countries.
In many tests, 'Goldach®' has prooven to be the variety being tolerated very well by lots of 'Mal d1'-apple allergic persons. It therefore can be named hypoallergenic and also be promoted as hypoallergenic.
We indicate that allergic persons should check on an individual basis if they tolerate the variety. In cases of heavy symptoms, medical supervision is strongly recommended. Lots of apple allergic persons are very grateful that there is the variety 'Goldach®' due to which they can eat fresh apples and thus regain some quality of life. You should not deny this your customers. They will appreciate being able to buy hypoallergenic apples. You might also reach pretty new groups of buyers.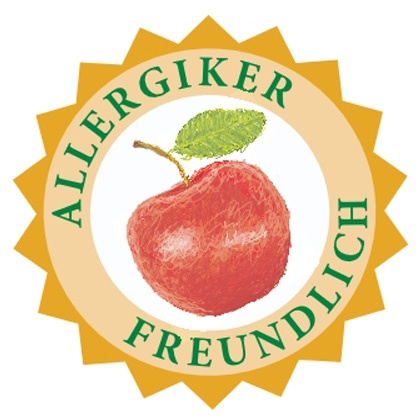 Why does 'Goldach®' not trigger allergic reactions or trigger only weak allergic reactions?
That is a question of the concentration and of the type of allergy triggering proteins in the apple. 'Mal d1' proteins are present in all apple fruits. If its content is below a certain threshold, only weak or no allergic reactions are triggered.
According to first results, 'Goldach®' fruits have a low 'Mal d1' protein content and therefore trigger only weak or no allergic reactions.
Further information about apple allergies can be read in the pdf document provided for download further down on this website.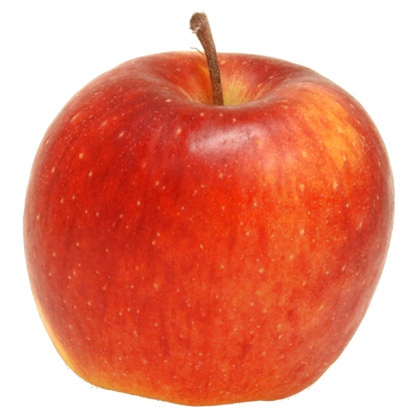 PORTRAIT

of 'Goldach®'

Parentage: 'Rubinette' × 'Pomona'
Breeder: Dr. Michael Neumüller, Bavarian Centre of Pomology and Fruit Breeding, Hallbergmoos, Germany. Plant variety rights are applied for this variety under the designation 'Bay 4069'.
Tree: Medium growth, compact trees, medium branching density. The short branches are full of flower buds.
Yield: High and very regular. Thinning required.
Flower: Early to medium flowering time, very rich. Diploid. Good pollinator. Thinning required in most of the years.
Fruit: Tree maturity 15-20 days after 'Gala'. Do not harvest too early (the shelf life does not suffer, the fruit quality benefits greatly). Ripe for consumption from October. Shelf life in normal storage until March, with SmartFresh® or in ULO storage until June. Medium to large (180 g), slightly high-built fruit with light, friendly appearing lenticels. Almost completely washed out fruit skin with red stripes. Opaque colour reaches down to the calyx pit. Flesh firm (8.5 kg/cm²). Low to medium acidity (3-6 g/l) with medium soluble dry matter content (13-14 % Brix). Discreetly aromatic with fine acidity. Hypoallergenic!
Storage:
Cold storage: temperature: ca. 1.5 °C. Stores until March.
CA storage: prolongs storability until June.
SmartFresh®: treatment possible; treated fruits store until June. Do not place treated fruits in CA storage, as this can sometimes cause etched skin or flesh browning after removal from storage. Therefore, the following recommendation applies for the time being: either CA storage or SmartFresh®.
Diseases: low to medium susceptibility to scab (less than 'Elstar'). Pay a little attention to mildew and rust mite infestation. Robust overall. Also common in organic farming.
Rating: Dessert apple for everyone, not only for apple allergic persons. With the apple allergic persons, a totally new group of buyers is reached.